Happy New Year's Eve Friends! We hope you have a fun and safe time ringing in the New Year.
Anyone else kind of glad that 2021 is finally over? It was a crazy year but we made it!
Many of you invested in IKEA Kallax cube shelving which makes organization affordable and easy. We bought 2 new units for our workshop. Check out the video below by Joe from NotATechShow for a detailed video walkthrough on how to assemble your IKEA Kallax.
The DVD Shelf Insert is a favorite of mine because it can be used in so many ways. It can hold and store DVDs as well as games (Xbox, Playstation, N64, etc.) You can also use it to store and display books, cosmetics, hair accessories, collectible items and so much more. 
Our DVD Shelf comes assembled so all you have to do is unpack it and place it on your shelf. There is an open area in the back of the shelf that you can use as a secret compartment. Or you can place it in your shelf backwards to store longer items on the bottom.
Our
Vertical Divider
is one of our most unique inserts. At the moment, it is only made to fit the IKEA Kallax cube shelf. It can be used to store vinyl records, books, magazines, notebooks for school, etc. 
It is available in Unfinished MDF and comes with super easy instructions to assemble.
Our kitchen organizers were very popular this year! Check out some of our customer's reviews and pictures: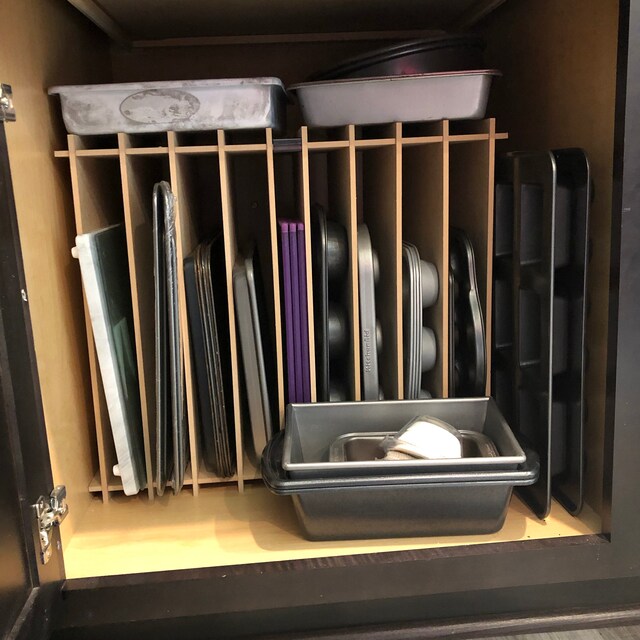 "Simple to assemble, looks nice, and is able to corral a good portion of my husband's baking pans."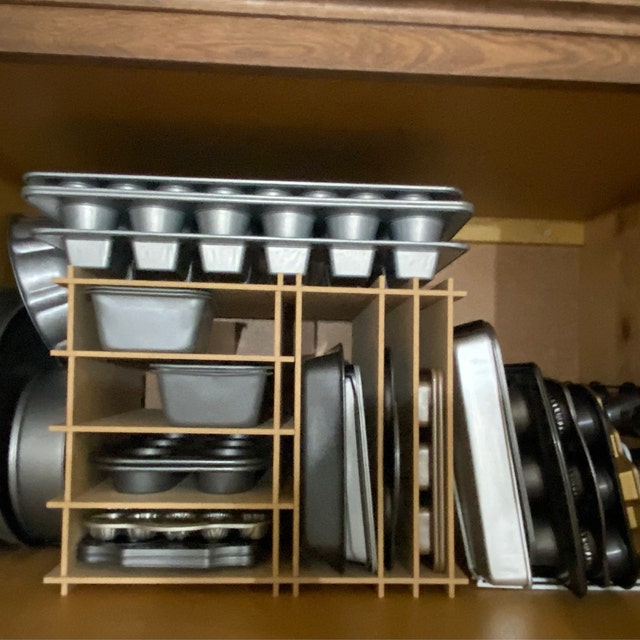 "Absolutely love this! It is exactly what I was looking for & is fantastic for helping me organize all my baking pans! It's perfect, I have my eye on a few others too 😍 Thanks so much, gorgeous work! 💗"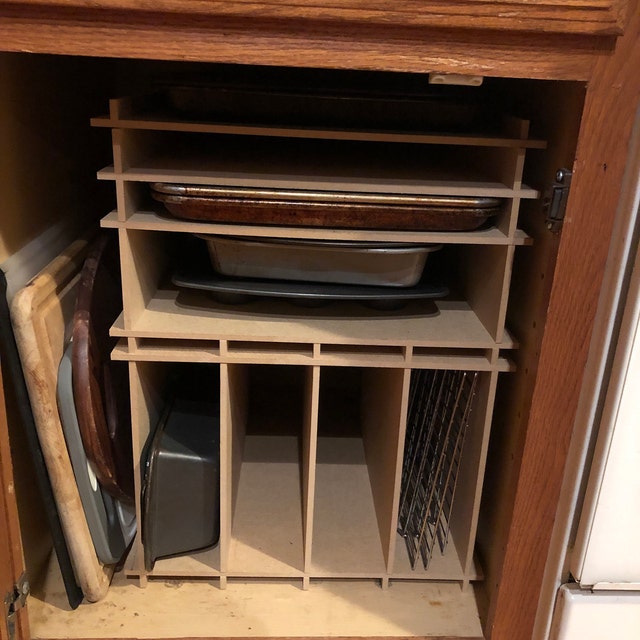 "This is exactly what our disorderly cabinet needed to restore the order! We've used it for about a week now and are very happy with the purchase. Would recommend."
Let us help you organize your home for the New Year, get rid of clutter and make more space for you.
We welcome custom orders if you have a unique space or cube shelf that you would like an insert for. Find out more about our custom orders on our
FAQ page
. 
All of our handmade items are made in a smoke-free environment. Our home is dog friendly but our little one does not come in contact with any of our handmade items or supplies. Thank you for supporting our small business. 
Questions or concerns? Please feel free to email me at info@thesteadyhandshop.com.